SCU LISMORE CAMPUS PERFORMING
ARTS COMPLEX
Overview
Modern Technologies
As part of SCU's ongoing Creative Arts initiatives the Performing Arts Centre was constructed. The project included:
Performance Spaces
Music Laboratories
Keyboard Laboratories
Studios
Learning spaces
Rehearsal Spaces
Extensive civil work
Carparking
Client
Southern Cross University
Address
Military Rd, East Lismore NSW 2480
Sector/s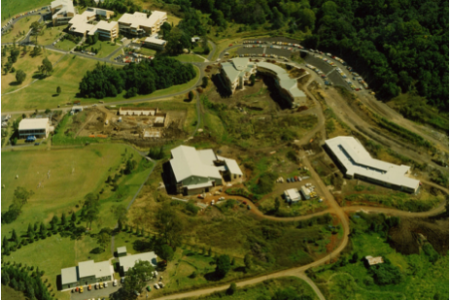 Highlights
Better acoustic
characteristics
With the university maintaining its principles of engaging modern technologies and connectivity the performing arts had a high end specification to enable global learning opportunities.
The level of co-ordination between the services trades and the stage and studio equipment were critical. This was well achieved as is evident in the world class output this university continues to deliver.
Construction methodologies were a mix use of masonry and steel. This enabled us to better control the acoustic characteristics needed for isolation and separation.
Contact Bennett today.
Choosing Bennett for your project places it in the skilled hands of our experienced management team backed by decades of retained industry knowledge.